We are located in Denver Colorado, USA.
We design motorcycle racing leathers and special parts.
We get inquiries every day from leather manufacturers in Pakistan.
It wastes a lot of our time. We made this page to explain how to do business with us.
"Hello Sir, we make custom motorcycle suits and apparel of the best quality.  Will you buy from us?"
No, we probably will not. Especially if this is how you reach out to us.
Almost every single day we receive emails, Facebook messages, Instagram messages, and WhatsApp messages from leather manufacturers in Sailkot Pakistan asking us to buy leather motorcycle apparel from them. The language barrier is quite a problem, but that typically isn't a big deal.There are many other problems with most companies that contact us.
At LegitMoto, our goal is to only design and sell high-quality motorcycle racing suits that do not violate trademarks of other companies. 
What you should NOT do: 
DO NOT MARKET US COUNTERFEIT GOODS
Do not show us photos of leathers that have Dianese or Alpinestars logos on them. Those are counterfeit goods and we will not use your company. No serious company would want to buy and resell your counterfeit goods.
DON'T ADDRESS US WITH DISRESPECT
Do not message Americans as "Friend" or "Dear" when you first reach out to us. You don't know us well enough to address us in this way.
It is a major turn-off to Americans. Do not expect us to automatically do business with us - you must earn our trust.
DON'T GIVE US PROBLEMATIC PAYMENT METHODS
Find a better way to accept payments. Preferably PayPal, Venmo, or Zelle or bank check by mail.
Xoom and Western Union are used by scammer IT support companies in India and this causes our banks to flag your transactions as fraud.
We have had difficulty paying legitimate invoices to companies in Sailkot using Xoom and Western Union.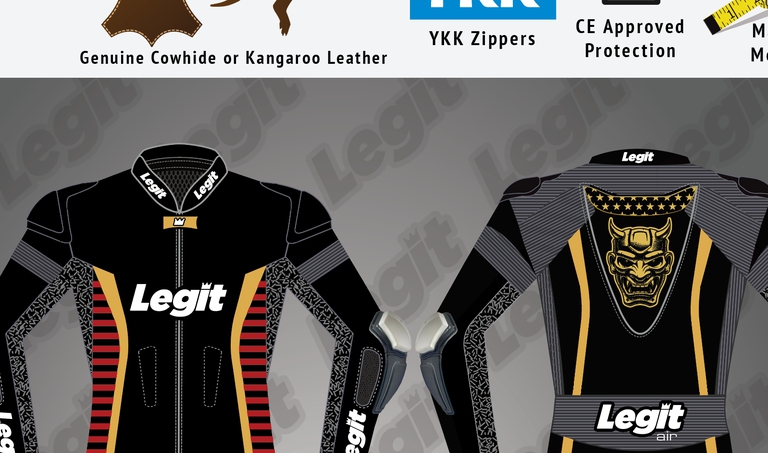 Above is one of our original suit designs, designed in illustrator and sent to a manufacturer in Sailkot as a PDF file.
How to win our business and partner with us. 
The USA motorcycle racing apparel market is pretty small. But there are MANY manufacturers in Sailkot.
There are a number of companies that sell quality racing apparel in the USA for the motorcycle track day and racing market.
All zippers, buckles, stitching, rubberized logos, leather material, armor, inner liners, etc. should be the highest quality
We do not want any buckles, zippers, etc. that will break easily.
Our leathers need to be available in both cowhide and also kangaroo leathers. Our leathers MUST be compatible with AlpineStars Tech Air 5 vests.
We are not insterested in integrating Helite airbag vests, suits, or humps into our leathers.
How to get started with us
Send us sample photos of your work to info@legitmoto.com
Send us your design templates as PDF files or Adobe Illustrator files.
Send us your detailed SIZING CHART for making custom leathers.
Send us sample photos of your armor and options.
Quote us any fees for custom-branding our products, such as rubberized logo die cost for leathers.
Give us sample color choices for leather.
Give us detailed pricing, including shipping.
You can ask us questions through WhatsApp. First email us or message us on social media to get our WhatsApp number.
We are located in Denver, Colorado and we are Mountain Standard Time.
Our Logo and Branding
Below are PDF files that contain our logo and branding. 
Contact Us
Facebook: https://www.facebook.com/legitmoto
Instagram: https://www.instagram.com/legit.moto/
Email: info@legitmoto.com
WhatsApp number available upon request - But please do not spam us.